An ecotourism community on the Mekong river says it is struggling to attract local tourists, with off-the-beaten-track destinations a hard sell for Cambodian travelers who typically prefer popular sites and comfortable resorts, tour operators say.
The Koh Pdao eco-community, located about 285 km from Phnom Penh in Kratie province, was established in 2008 on one of the longest islands (around 45 km long) on the Mekong river in Cambodia.
Prom Sarith, a community leader at Koh Pdao, said every year about 400 foreigners visit to do community projects such as building farms, raising animals and teaching children.
However, few Cambodians visit because they prefer holidays that involve relaxing, singing and drinking, activities that the Koh Pdao community isn't best suited for.
"We don't have the capacity to build on the water," Sarith said, referring to the wooden platforms along rivers and lakes common around Cambodia for eating and drinking.
Ecotourism at Koh Pdao aims to improve the community's livelihoods. Traditional fishers and farmers work together to run the visitor services and earn extra income. The community also uses the revenue to contribute to protecting fisheries — especially to protect the Mekong Irrawaddy dolphin — as well as other conservation projects.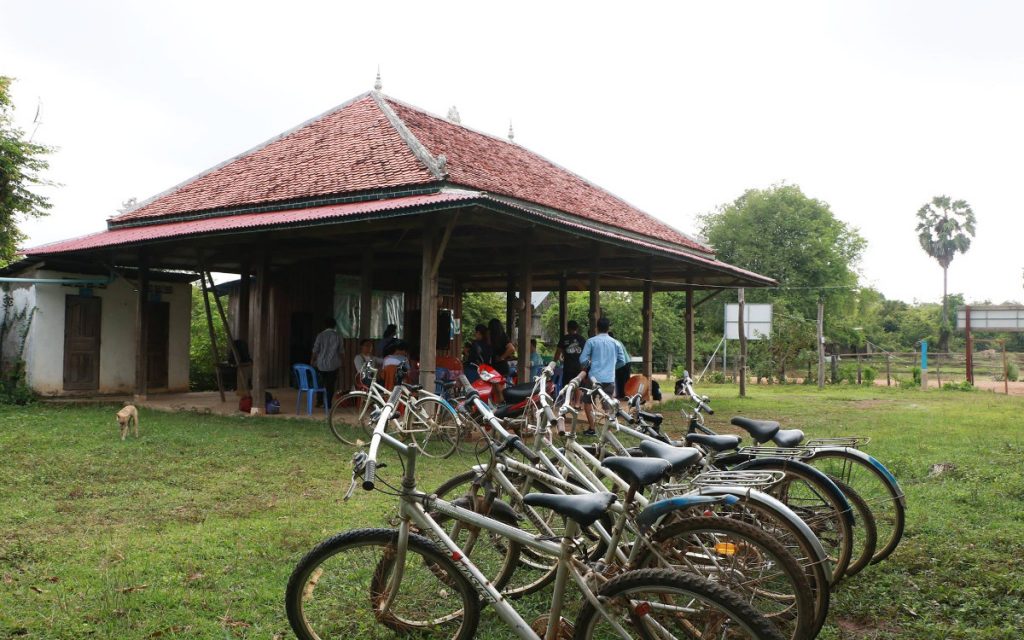 Ecotourism businesses have seen growth around the country in recent years. In Kampot province, several new businesses have sprung up, attracting international and local tourists. Ecotourism resorts such as Kdat, Kdat Latang and Mlech Dam have opened in recent years and are growing in popularity. Similar businesses have come up around the country, especially in Mondulkiri and coastal areas. However, small, traditional destinations like Koh Pdao are failing to latch onto the boom.
Koy Phearum, founder of tour operator Khmer Camping, explained that most Cambodians want more comfortable destinations. In his tours, around 45 to 80 Cambodian customers travel to popular provinces like Kampot and Preah Sihanouk, attracted to their beaches, comfortable facilities and active social media marketing.
"We just have to pay money, and they will serve us conveniently," Phearum said.
In contrast, eco-communities are struggling because they provide only traditional services, Phearum said. They offer fewer, less-modern amenities but their prices are about the same, and they market their destinations less, he said.
Therefore, most Cambodians who take tours prefer to go to private ecotourism resorts, Phearum said.
Van Narith, coordinator of NTFP-EP, a local NGO that helps communities develop their tourism, acknowledged that eco-communities faced a difficult challenge.
"It's hard for eco-communities to compete with private businesses," Narith said. Eco-communities can only innovate based on collective action and are limited by their natural resources, because they don't have access to technology, marketing strategies and the money to run expensive operations, he said.
"For example, if they want to build bungalows instead of homestays, they do it based on volunteerism. They are villagers and have to be trained how to cook, while private businesses have the money to hire staff to cook delicious food and build attractive places," Narith said.
He suggested that the government, Tourism Ministry and NGOs provide training, technical support and marketing strategies to help the communities, which offer more learning experiences for visitors and greater benefit for locals."Youth should enjoy their vacations, but they should also learn something new from that area," he said. "By riding boats to see the sunset, we can camp at the beach to see endangered Mekong Irrawaddy dolphins, and listen to the sound of a comfortable river."