City Hall is promising tougher measures against street sellers and parked cars cluttering Phnom Penh's sidewalks, but vendors say that, for now, payments to police and city officers are keeping enforcement in check.
City Hall has targeted 11 major roads around Phnom Penh since August 2017 in a project to clear sidewalks for pedestrians and attract more tourists, reduce traffic jams and promote traffic safety.
City Hall spokesman Meth Meas Pheakdey said it was a difficult policy to implement because it required people's participation.
"Changing people's minds is not easy and it takes a long time. They still park cars, put tables in front of their restaurants and their products on the sidewalk," Meas Pheakdey said.
However, he was still optimistic that the goal could be achieved, and there had already been progress made since the campaign began, he said.
He added that City Hall would take stricter measures against people who continue to clutter the sidewalks, including eventually taking them to court and shutting down their businesses.
"We have our own strategy, such as a campaign to inform and educate the first time; warn and report the second time; and confiscate their property if they still are in violation," he said. "We will bring to court those who are still against our solution, and their businesses can be closed."
Tung Kimheng, a vendor outside the Royal University of Law and Economics on Monivong Blvd., said she had been selling drinks and bread at the location on the sidewalk for about a year.
Local authorities were always telling her to move, and sometimes confiscated her wares, she said.
Nevertheless, she said, "I sell here for nearly one year by paying 10,000 riel per week to police."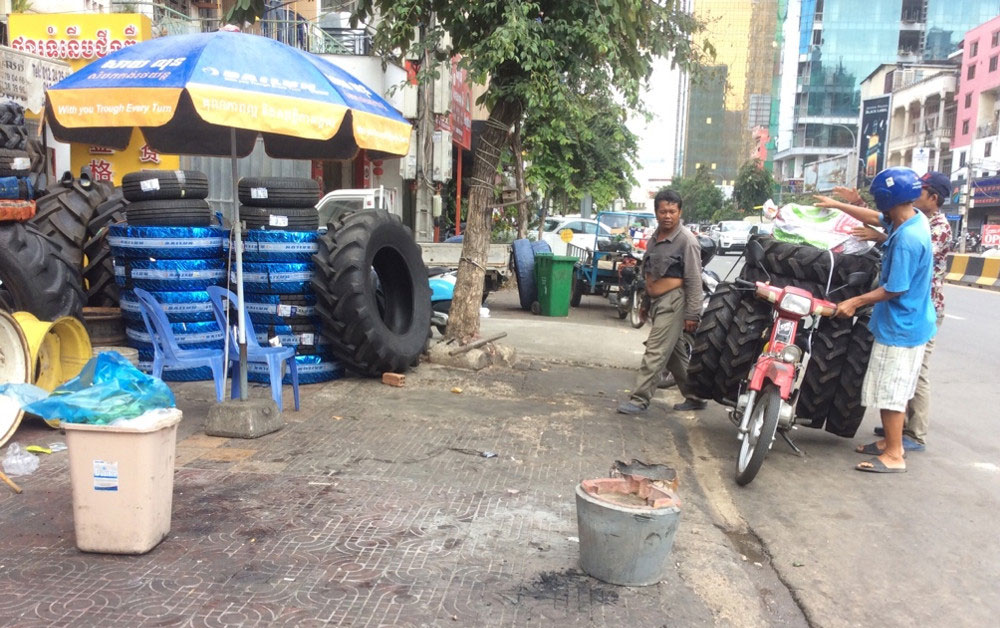 She agreed that selling on the sidewalk was not attractive for tourists, but said this was the only work she had.
"This is my only career that feeds my family, but if authorities really want me to stop selling here, I will decide to stop," Kimheng said.
Som Samoeun, a resident on Monivong Blvd. near Gold Tower 42, sells car tires in front of his house.
He said local authorities come to the area almost every day to clear the sidewalk and restrict the space he can use.
"The authorities limit the space for me to within 4 meters wide on the sidewalk, but sometimes I have to put tires all the way to the road for my customers whenever they order," Samoeun said.
Cambodian people have parked their cars and put their belongings on the sidewalk for a long time, he continued.
Police always come to tell them to stop, but they still revert to the custom when police are not there, he said.
"Shops and restaurants around here park cars [on the sidewalk] and it hides my products, so I have to do like them for my business," Samoeun said.
He added that he gives 10,000 riel to city officers whenever they come to clear the sidewalk, reasoning that this is just "sharing."
Meas Pheakdey, the City Hall spokesman, said people have no obligation to pay officers in such situations because there is no law that requires it, officers should not be suggesting it and people should not volunteer payment.
"If it really happened — ordered to pay or volunteered to pay — all that activity should not happen," Meas Pheakdey said.
The people and all local authorities should work together in the interest of society, he added.
If there is any evidence that officers are taking money from people to let them use the sidewalk, City Hall will take measures, he said.
Peda Smith, a tourist who has been in Phnom Penh for five days, said the city's sidewalks were hard to walk on. There are too many obstacles, and the parking is chaotic, he said.
"It is very small and [it's] tough, and here are too many obstacles such as shops and cars," Smith said. "Nothing much you can do. You cannot make them bigger because the house is here, the road is there."
Sebasgen Vilas, a French tourist, said he had been in Phnom Penh for 20 days and was concerned about his safety while walking on the city's streets.
"Sometimes it is crowded with shops. I have to walk on the road, and I have to be careful with motorcycles and cars," Vilas said. "I want see some move, for stores to give a little bit more place to sit and walk."
The roads targeted by the City Hall campaign since 2017 are Norodom, Monivong, Russian Federation, Kampuchea Krom, Mao Tse Toung, Sihanouk, Nehru, Monireth and Charles De Gaulle boulevards; Sisowath Quay; and Tep Phan St., Meas Pheakdey said.
They would eventually become the model for all roads in the city, he said.
For these 11 roads, people are not allowed to park or build on the sidewalk, and vendors cannot use more than one-third of the sidewalk's width, according to RFI.