Phnom Penh is facing a shortage of public buses as passenger numbers grow to an estimated 30,000 a day, with about 50 older vehicles sitting broken down in the service's parking lot.
The head of the city's bus authority and several drivers told VOD that dozens of the service's first-generation buses — gifted second-hand from South Korea — have become too dangerous and expensive to repair.
"People complain that they wait so long and there are no shelters, and I always reply that we don't have enough buses," said Men Sophal, a public bus driver.
The broken-down buses are simply left at the bus service's parking lot, Sophal said.
Another driver, Long Pov, said the service was proving increasingly popular, but the old buses were becoming a bottleneck.
"There's no lack of people, but a lack of buses because 50 to 60 buses are broken without being repaired due to a financial problem," Pov said.
Ean Sokhim, director of the Phnom Penh Autonomous Bus Transportation Authority, would not respond to the claim of a "financial problem," but said the old buses had become too expensive to fix.
"Those buses are too old. We can't afford to fix them anymore. It wastes our money too much," Sokhim said, estimating the number of broken-down buses at 50.
He added that the old buses could have also become dangerous for passengers.
"Those buses use [natural] gas, and if we can't fix them with the right technique, it will cause a danger to our people," he said.
Sokhim said the authority would request 100 more buses from China to develop the city's public transport.
At the city bus authority's headquarters in Chroy Changvar district, near the Win-Win Monument inaugurated late last year, rows of Hyundai buses could be seen, still looking neatly painted but no longer in service, according to workers on the lot.
Passenger Growth
The breakdowns have come amid what a City Hall spokesman said was encouraging growth for Phnom Penh's public transport.
Meth Measpheakdey said he considered the public bus system a success, growing from three lines and 50 buses in 2014 to 13 lines and 230 buses now.
About 30,000 people now ride the buses a day, he said.
The service carried about 8,000 passengers a day in 2017, VOA reported.
The newer buses have been gifts from Japan and China.
"Our service is very developed because there are more buses and lines, drivers with licenses, people can pay by cash, bank card or Wing card, and now we have a [smartphone] application that shows people where the buses are," Measpheakdey said.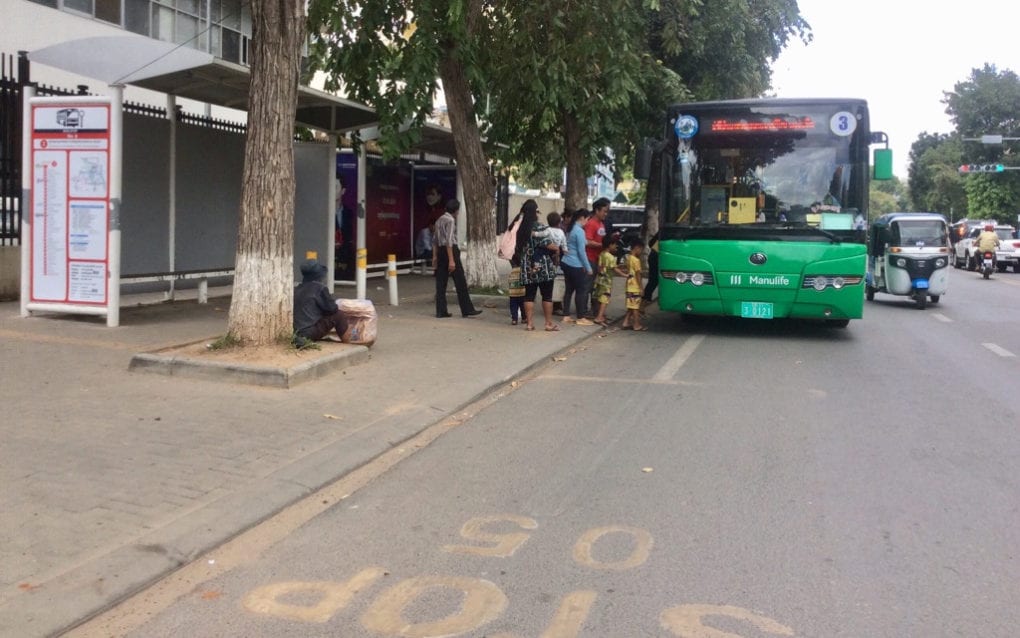 City Hall would continue to add more buses and hoped that passenger numbers would rise in order to reduce traffic and save money for residents, he added.
"One bus has 40 seats, meaning that we remove 40 private vehicles from the road [for every full bus], so we are trying to have more," Measpheakdey said.
The price for a ride is 1,500 riel (about $0.38), while elderly or disabled people, children, students, monks, garment workers and sports professionals can ride for free.
Passengers said they appreciated the service, but some said Phnom Penh's congested traffic tested their patience.
University student Thy Sok Im said she was happy to ride for free, and dealt with traffic jams by simply leaving her house earlier.
"I think it's good because it's cooled, safe, and I don't have to pay," Sok Im said.
But Heng Yong, a recent graduate of Pannasastra University, said he couldn't take the bus any more. He said he used to ride the bus every day, partly to do his part to reduce pollution and traffic congestion, but now that he was working as a salesman, he could not spend the time sitting in traffic.
"The number of vehicles are increasing and causing traffic jams, so I have to drive my own motorbike to complete my work tasks," Yong said.
The city also has a water taxi service that began operations in April last year run by the Ministry of Public Works and Transport from Russei Keo district to Takhmao City in Kandal province.
Chor Trong, deputy director of taxi boat operations at the ministry's transport department, said water taxi use had grown from about 30 passengers a day when the service launched to 100 now, with few complaints.
"Maybe not many people knew about our service at first, but now the number of people who use our service has increased a lot," Trong said. "The taxi boat might need to develop more to reduce traffic jams in the city."
This Newsroom Cambodia story also appears on VOD English: https://vodenglish.news/water-festival-security-planning-underway-amid-political-tensions/