Last-minute, city-ordered cancellations of several public events in recent weeks were due to continued caution around coronavirus, City Hall said, though one environmental group questioned whether authorities were going too far and silencing activists.
A Black Lives Matter rally in front of U.S Embassy, an International Yoga Day exercise session at Wat Phnom, and a photo exhibition by environmental activists Mother Nature in front of Wat Botum were all scheduled to be held in the capital in the second half of June.
In the first two cases, City Hall denied permission to event organizers, but organizers said they were happy to comply and held the gatherings in private spaces instead.
In the third case, Mother Nature went ahead with its plans, saying the Law on Peaceful Assembly gave the group the right to gather. District security guards disrupted the event, however, forcibly breaking it up.
Heather Smith, a social activist and lead organizer of the Phnom Penh event to promote awareness of racism and police brutality in the U.S., said the original plan was to rally in front of the U.S. Embassy.
Weeks of Black Lives Matter protests in the U.S., ignited by the killing of a Black American man George Floyd by Minnesota police, have drawn attention to issues of racism both in the U.S. and worldwide.
"[T]he governor at first was going to allow us to protest," Smith said in a message. "[H]owever, the same day a new case of Covid-19 came in."
"[W]hen we came to pick up the letter they told us that due to concerns about Covid-19 they could not give us permission to assemble," she said.
Smith said she postponed the event and held a gathering at a bar in Tuol Tom Poung instead.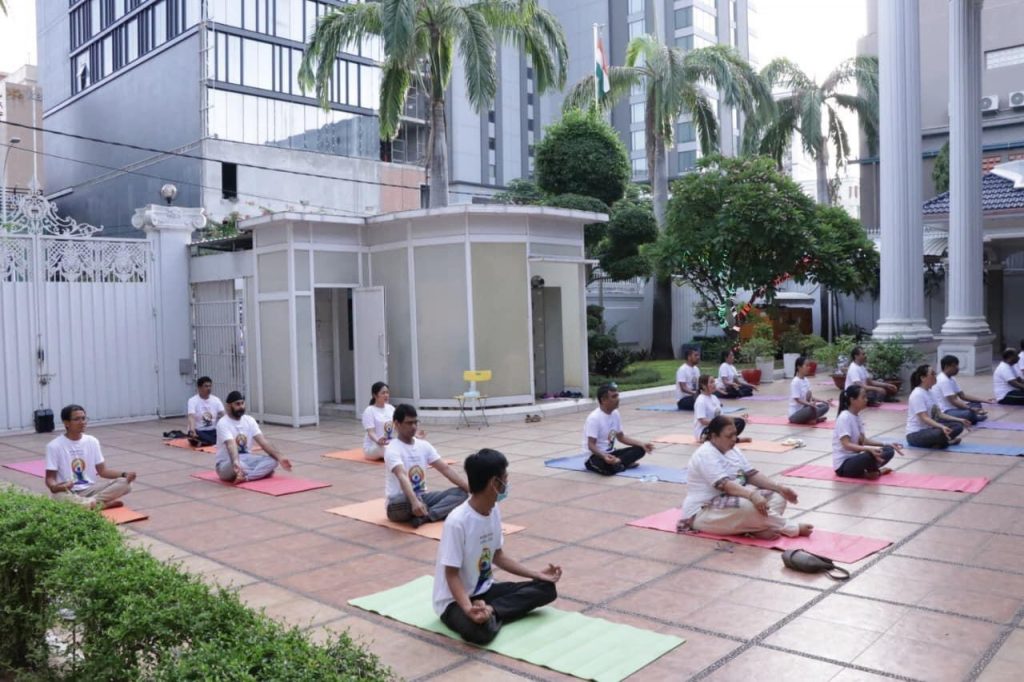 "[W]e found a way to still get our message across with our Juneteenth Social that we held at Alchemy," she said, adding that the event turned out "even better than what we original planned."
Meanwhile, the Indian Embassy's main International Yoga Day events were to be held at both Ta-Prohm Temple in Siem Reap and Wat Phnom in Phnom Penh, but the venue for the Phnom Penh session was moved to the Indian Embassy compound, according to City Hall.
City Hall spokesman Meth Measpheakdey said the Indian Embassy's planned Phnom Penh event at Wat Phnom was too similar to exercising in gyms, which had been closed as coronavirus cases rose in the country.
"International Yoga Day was canceled because all gyms in Phnom Penh were closed. So the event of yoga must be banned," he said.
He added other public gatherings in the city had also been canceled out of public health concerns.
"Some events were canceled because we are preventing the pandemic of Covid-19," he said. "We are not allowed to have public gatherings."
Battula Subba Rao, second secretary at theIndian Embassy, said this year's celebrations had been "comparatively small scale as compared to previous years," and they were held "as planned" — despite the change in venue.
For Long Kunthea, an activist from Mother Nature, however, authorities' disruption of its photo exhibition — advocating for the protection of Koh Kong island — was an alleged violation of the right to free assembly.
"If we asked for permission, we would have broken the law," Kunthea argued, pointing to Article 3 of the Law on Peaceful Assembly.
The law requires notification of authorities five working days before a public gathering, with authorities permitted to deny the event only if there is "clear information" that it could seriously jeopardize security, safety and public order.
However, Article 3 also exempts election rallies, labor protests, religious and cultural gatherings, and "educational dissemination activities for social interests" from the law's stipulations.
Kunthea said the group's photo exhibition fell under the last category, and should not have required prior notice.
"The law does not tell us to ask for permission, but the authorities blocked us. So we consider [the] actions as intimidation, a violation of our rights," Kunthea said.
The group would continue to advocate for the protection of Koh Kong island despite the pressure, she said. "No matter how much we are restrained, we will keep going with our activities until the whole of Koh Kong is fully protected."
City Hall's Measpheakdey did not reply to questions about Mother Nature's claim that its rights were violated.