Finding good and safe housing in Phnom Penh is a problem for poor female students from the provinces who want to attend university.
Almost 80,000 students across the country finished high school this year, and there is a lot of demand for student living spaces in Phnom Penh, especially for women.
Sunarith Thavry is a student who just finished high school in Siem Reap. She wants to continue her studies at a university in Phnom Penh, but she does not have enough money, and she is concerned about her security.
"My mom tells me that she does not have enough money, and I have to work to get money to support my living if I go to study in Phnom Penh," she said.
"My dad worries about me if I go to stay at Phnom Penh because he thinks that it is not safe all the time," she continued.
Because of these problems, she decided against coming to study in Phnom Penh. Instead she will study in Siem Reap.
Dy Romdoul is studying social work at the Royal University of Phnom Penh (RUPP). She lives with two of her friends in a rented room, and each person spends $30 a month for room, electricity and water.
"I spend $30 every month only for housing. It is not enough if I include daily spending such as gasoline and food," she said.
Because of this problem, she has to work full-time, which she said affects her studies. She takes classes in the mornings and works in the evenings until 9 p.m.
"Because my major is social work, I have to go to rural areas to do research or trainings, and sometimes attend make-up classes" outside usual class hours, she said. "But I don't have time to go because I have to work full-time, so I've failed sometimes."
Dy Srey Len is a second-year student at RUPP, and lives in a rented room with her sister.
She said that just last week her motorbike was stolen from her residence. This situation makes her worry about her security.
"I put my motorbike in front of my room, and a thief stole it on the 10th of this month. After that, I don't feel secure anymore. It's hard for me to continue living here," she said.
She wants to live in a dormitory, saying that if she could she would not worry about security anymore. But she can't because dormitory space is limited.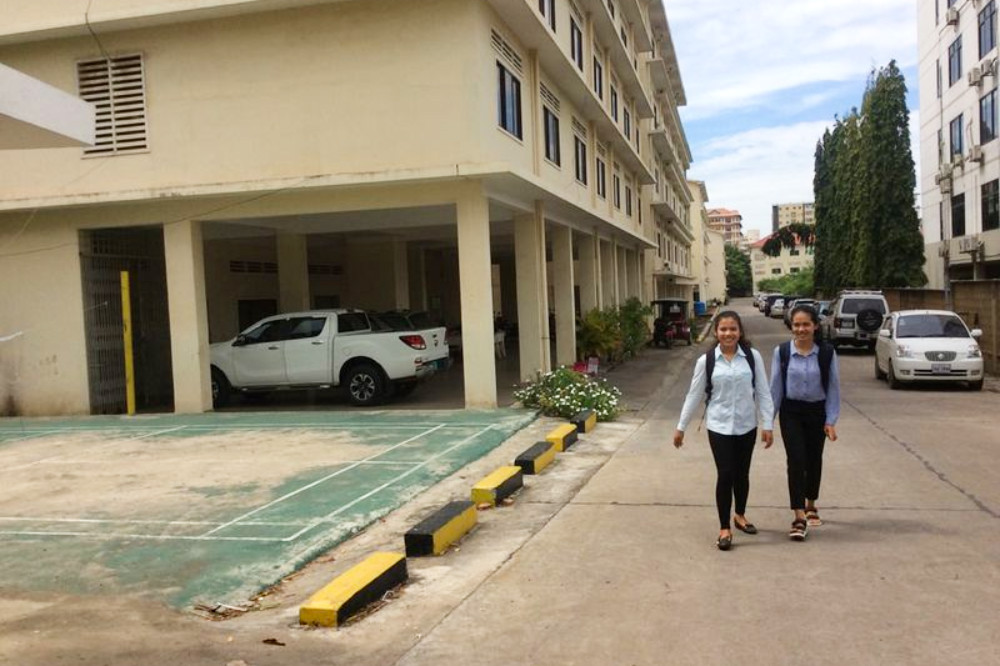 Pen Sophany, the manager of female dormitories at RUPP, said the university had three buildings for Cambodian female students. These three buildings can house 480 students.
Around 300 students apply every year for only 120 spaces to replace senior students who graduate, she said.
"We don't have enough places for them, so we are strict when choosing students to live in our dormitories," she said.
She can only provide beds to students who are disabled, very poor, from very remote rural areas, or whose parents have been in the front line of battle, she said.
The students need to work at night to support their daily spending, so providing housing helps them a lot, she said.
If the university didn't provide a place for them to live, some would not be able to study at a university in Phnom Penh, she said.
Moul Somneang, manager at the Harpswell Foundation, which provides housing for female university students, said she understands the difficulties female students face when they pursue university studies far from home.
"I see that they have a problem with living spaces," Somneang said. "Parents want them to continue their studies but security is a serious concern when they leave home, especially if they don't have relatives in Phnom Penh."
Harpswell accepts 15 to 20 new students every year. The foundation has two dormitories currently housing 70 students, she said.
According to the Ministry of Education, Youth and Sport, 207,434 students were in university in 2018, 48.37 percent of them female.
Female dormitories at RUPP have housed 5,208 students since 2007, according to a document provided by Sophany, the dorm manager.
A spokesman for the Education Ministry had not responded to questions at the time of publishing, saying that he was currently overseas.