Children living in a Preah Vihear temple area are struggling to get to school due to damaged roads, with rules around heritage and conservation preventing the construction of better roadways, residents and local authorities said.
Koh Ker village, in Kulen district's Srayang commune, falls under an area protected by the National Authority for Preah Vihear, which means trees cannot be cut down to clear the way for better roads.
Koh Ker primary school principal Phat Dily said parents and teachers worry about the safety of students on their commutes to school, especially during the rainy season when the damaged roads fill up with water.
Many students fall off their bicycles on their way and need to go home, Dily said.
"Every year when there is heavy rain, students find it difficult to go to school. For example, this year the rain keeps falling down and their clothes were stained. Some students returned home, and some still went to class with dirty uniforms," he said.
Because they missed classes, students had difficulty catching up on the lessons at school, and their scores were decreasing, he said.
Sometimes, the local department of education complains about the student's results when they look at their records, Dily said.
"Teachers cannot teach the same lesson that they taught the previous day​. Otherwise, they will not be able to complete the program for the year. Therefore, our education quality is going down," he said.
The education department and foundations that help with school supplies, books and other resources were "not happy with falling students," he said.
Choeun Salin, a 40-year-old resident in Koh Ker who has been living in the area for more than 10 years, said the damaged road made life difficult for locals.
"My motorbike was broken because it fell into a deep hole. I spent about $80 to fix it, and my income decreased," she said. "It's not only me that fell. There were other people also."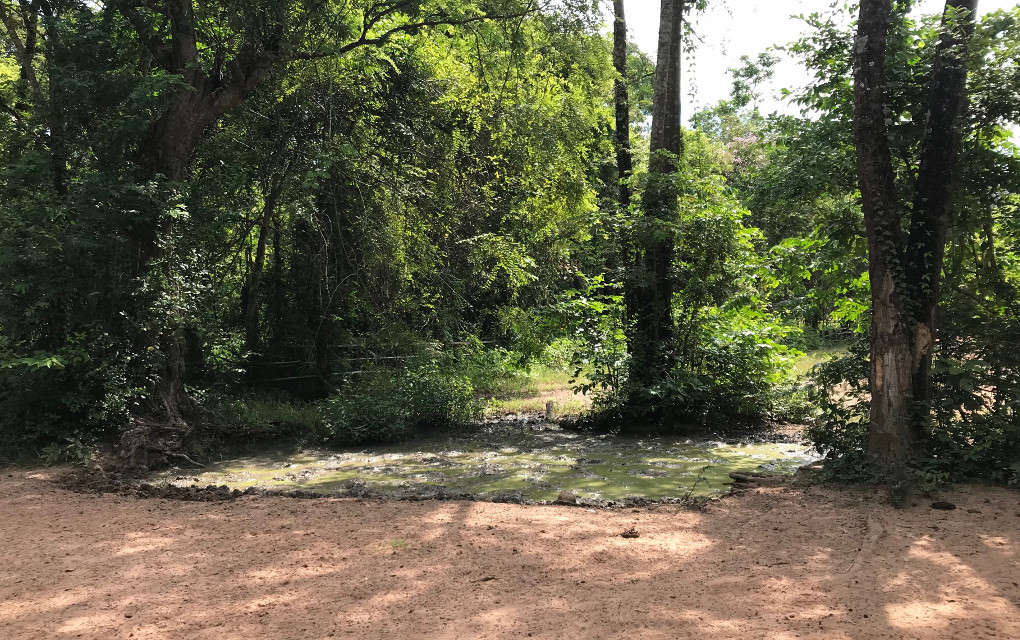 Village chief Doem Doeun​​ said Koh Ker has faced this problem for many years without a solution.
A stretch of road where most of the village's houses are located was fixed about five years ago. But the road into and out of the village is full of potholes and has trees blocking its path.
"It's hard for us to travel​ because it gets muddy with water and it is easy to slip and fall," Doeun said.
Kha Hor, deputy chairman of the National Authority for Preah Vihear's department of forestry, environment and water in the Koh Ker conservation zone, said he had decided on June 26 to allow residents to fix the roads by filling the holes with stones and gravel.
However, they are not allowed to cut down trees or use heavy machinery like tractors during the road repairs, Hor said.
"Because this area is a conservation zone, so we can allow the holes to be filled but not to cut down trees," Hor said.
He added that the area was expected to soon be recognized as a national heritage site due to the many temples around the village.
Commune chief Krouch Srob said a lack of budget also made it difficult to improve the roads in Koh Ker.
The commune had already improved about 1 km of the road near residents' homes, but there would not be money to work on other parts of the road for two years, he said.
"We have a budget for other villages, but for Koh Ker we have to wait two years," Srob said, explaining that the commune needed to provide for 14 villages.
There are 713 people in Koh Ker village, according to Doeun, the village chief.
Koh Ker was once an ancient capital of Cambodia between 928 and 944 during the reign of Jayavarman IV. It is 127 km northeast of Siem Reap, and has at least 180 temples. However, most of them have not been restored and are in areas of the forest that once contained landmines. Twenty of the most significant monuments are safe and are located along a ring road between the village and Siem Reap.