KAMPONG PHLUK COMMUNE, Siem Reap province — As water levels plunge to record lows, a government official says "the fish can't give birth and struggle to breathe."
Local fishers say even fish that once lived under the mud on the Tonle Sap's lake bottom are gone, illegally electrocuted by desperate fishers. The electric rods are also destroying krill eggs, putting the ecosystem in a death spiral, they say.
A 37-year-old fisherman, who says he has plied the waters "since I was born," has quit fishing for a living and has turned to selling snacks on a tourist boat.
Sitting in his tall floating house, encased by zinc walls held up by old, small wooden pillars, Choeun Sambath says the old livelihoods of Kampong Phluk are disappearing along with the fish.
A small island separated from the mainland during the wet season by the waters of the Tonle Sap lake, Kampong Phluk, in Prasat Bakong district, is home to almost 4,000 people in 1,000 families.
Most still fish to support their livelihoods. But many say the catch has dropped significantly again this year, leaving their futures uncertain.
Choeun, who now spends his days sitting in the middle of a narrow boat with his snacks as tourists take in the lake's sights, says he can remember when fish were so plentiful a fisherman could hardly fail to catch one.
"I'd put 500 sayern down, and fill 500 sayern," he says of his krill traps. "But this year, I can't get even one."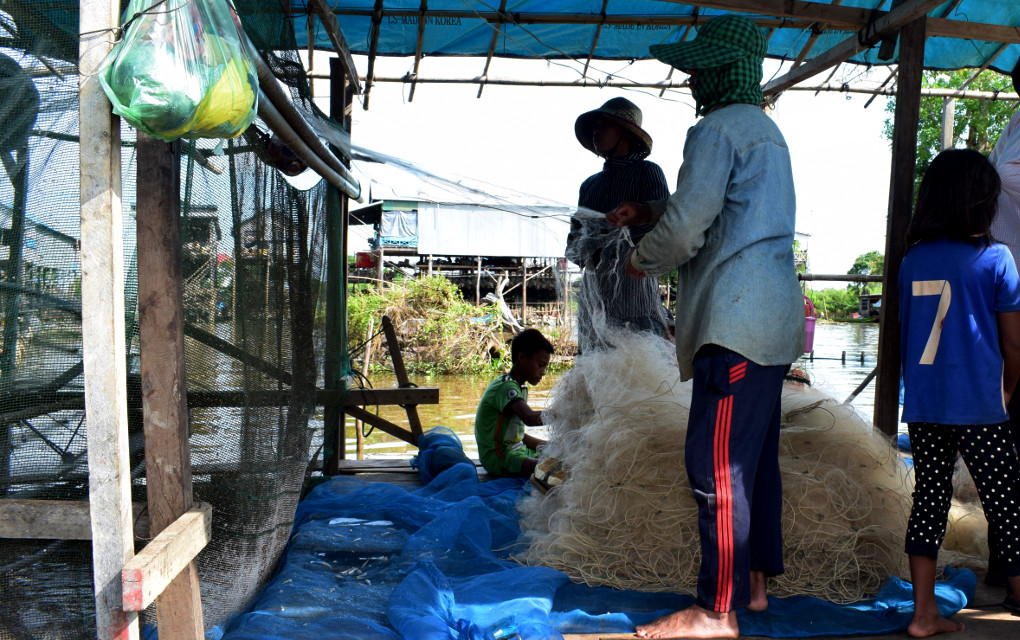 Choeun says he has seen rampant illegal fishing around the lake. Fishers use electric rods to shock and kill fish, and drag yang kav nets between two boats digging up the lake bottom and decimating fish spawn.
"It would be fine if they fished like us, but they use shock devices, and drag [nets] that reach the bottom of the river — so there is no fish left, even fish that live under the mud. If we talk about krill, the electric shocks break all of their eggs," Choeun says.
Fishery authorities have taken only intermittent action against illegal fishers, he says, adding he doesn't understand why the problem is allowed to persist.
Another Kampong Phluk fisherman, Hy Sophea, tells a similar story. The illegal fishing implements and climate change are causing the mass decline in fish stocks, he says. Now he cannot support his family, and depends on his wife who works at the commune office.
"Commune authorities have come to educate [people] — they've been active — but the offenses are too much. Some of [the offenders] are from this commune, some are from outside," he says.
Fishers are using nets with holes smaller than allowed by regulations, killing younger fish, he says.
At the northern end of the island, Rous Hout says the water seems to be receding faster every year. Usually there is water along the riverbanks until February or March. But even earlier this year the riverbanks were dry by January, he says.
"The water is receding so fast this year," Hout says. "The fish are becoming extinct."
Commune chief Ning Ny says even as fish stocks decline, the population is increasing and demand for fish rising, putting greater strain on the community. This years appears to be even worse than last, he says.
Baby fish don't the chance to mature because water levels are so low. "This year there's less water and it recedes faster, so the fish can't grow," he says.
Khun Savoeun, undersecretary of state at the Ministry of Agriculture, Forestry and Fisheries, says the catch on the Tonle Sap appears to be down about 15 percent for the first 10 months of the year, with official statistics showing a decline from 58,646 tons last year to 49,625 tons this year. The coming months are likely to be worse.
"The main cause is that the water this year is lower than last year by 3.4 meters. This makes it so the fish can't give birth and struggle to breathe," Savoeun says.
Illegal fishing is seeing a corresponding rise, with cases increasing from 206 last year to 261 already this year, he adds.
"The illegal fishers have more modern methods, and their numbers increase," he says.
"But our fisheries authority has not increased, and our weapons to suppress the cases have not modernized," Savoeun says. "Still, we are very active — that's why we know the cases are increasing."
The ministry is promoting fish farming to reduce the dependence on natural fish stocks and boost people's incomes, he adds.
Choeun, the former fisherman in Kampong Phluk who now sells snacks to tourists, says it is difficult to witness how much the lake is changing."In the past, I could get fish to cook within an hour by putting my hands with rice into the water, and fish swam into my arms. But now, I sit for the whole day and get nothing."