Fewer people are wearing masks in Phnom Penh and elsewhere in recent weeks despite new cases of coronavirus in the country, with residents saying they feel the danger has passed and that the masks are too uncomfortable and hot.
Official Health Ministry advice continues to recommend masks for people who are feeling sick, however, while Prime Minister Hun Sen has urged all residents to continue wearing them.
Noeun Narith, a doctor on Phnom Penh's Koh Dach island, said the number of people in his village wearing masks dropped sharply in recent weeks.
"The number of people who wears masks has definitely decreased," he said. "I've observed that around 70 to 80 percent of people in my village do not use masks."
Narith said that when advising his patients he tries to balance recommending good hygiene with avoiding panic.
"I have, from time to time, encouraged my patients and neighbors to not be [too] worried or stressed," Narith said. "However, personal hygiene should always be practiced."
He noted that he only wears masks himself in situations of higher risk, though he also avoids shaking hands. "Beside meeting patients and going to public or crowded places, I don't wear masks either."
Sou Dara, first vice abbot at the Vihara Dudim pagoda in Tbong Khmum province's Suong city, said his abbot had instructed all monks to wear masks during public events, particularly when chanting.
Most pagodas have also made hand sanitizers and areas for hand washing available. However, recent visitors to the pagoda have increasingly stopped wearing masks, Dara added.
"I noticed, presently, many people who visit the pagoda don't wear masks. For example, more than a half of the people didn't wear masks when they attended Tean Vosa," Dara said, referring to a rainy-season ceremony held on Monday.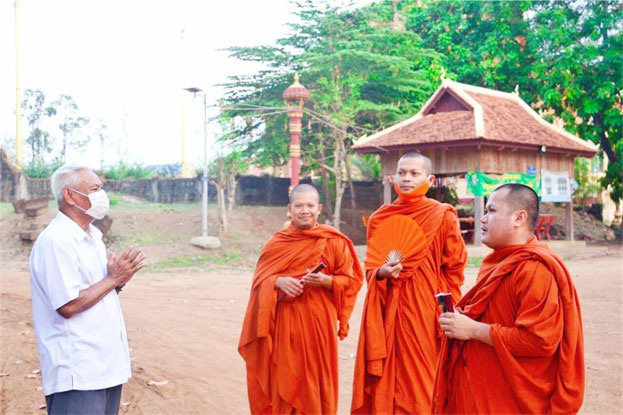 In Phnom Penh, many residents expressed a preference to stop wearing masks, and said they were no longer overly concerned about coronavirus. The virus has killed 465,740 people worldwide in 216 countries, with 8,860,331 total cases, according to the latest World Health Organization update on Monday. However, only three active cases are currently known in Cambodia.
Mony Rithya, who helps out as a server at her parents' Kao Heng Cafe, said she had stopped wearing masks because she considered the pandemic situation to have improved. "I don't like face masks. I feel uncomfortable when I'm wearing them, and I don't think Covid is so serious now," she said.
Chen Sok, a security guard working at Darts Snooker, said he doesn't like wearing masks because they are too hot. The current hot weather makes him uncomfortable when he is wearing them, he said.
"However, I have to wear them because that is what the club manager said. If I am found without a mask, a $10 fine will be applied every time," he said. "This penalty applies to all staff, not only me, because there are many types of people going in and out here."
Art Att, 21, a chemistry student at the Royal University of Phnom Penh, said cost was also a reason he had stopped wearing masks.
"Before, I could buy three for 500 riel, but now for only one I have to pay 2,000 to 2,500 riel," he said. "I was wearing masks at the outbreak of the pandemic, but now I've stopped wearing them because the Covid-19 situation is better and no longer a concern, I think."
Advice about wearing masks has been conflicting since the pandemic's outbreak earlier this year.
The World Health Organization has emphasized that masks should only be used "as part of a comprehensive strategy."
"Masks on their own will not protect you from COVID-19. People should also clean their hands frequently and maintain a distance of at least 1 metre from others," it advises online.
Health Ministry's recommendation is that individuals without respiratory symptoms do not need to wear a medical mask, as there is no evidence that it is useful to protect people who are not sick.
Nevertheless, it stresses that anyone who is in close contact — within 1 meter — of someone who has respiratory symptoms such as sneezing and coughing is at risk of exposure to potentially contagious respiratory droplets. The ministry says individuals with respiratory symptoms should wear a medical mask and seek medical care immediately if they are experiencing a fever, coughing and difficulty breathing.
Last week, Prime Mister Hun Sen urged people through his official Facebook page that whether they are in the city or the countryside, they should continue wearing masks and regularly washing their hands with soap or alcohol.
Crowded spaces such as supermarkets, restaurants, cafes, other shops and especially clinics and hospitals should provide hand sanitizers for people to use, he added.
According to the communicable disease department of the Health Ministry, 130 cases of coronavirus have been identified in Cambodia as of Tuesday, with 127 of them already recovered. The latest case, a 66-year-old Cambodian man who returned from the U.S. over the weekend, was announced on Tuesday. No deaths have been reported.
Clarification (June 24): An earlier version of this article used a mistransliteration for Vihara Dudim pagoda.